Dear reader,

Happy New Year and a big thank you to all of our customers who have made 2015 a successful year for SCIA!
The ninth edition of the international Engineering Contest under the theme "The Art of Structural Design" proved to be a great success. A lot of our clients participated with their projects and we were able to publish their stunning designs to the international engineering community.

Personally I am very happy and excited to have the opportunity of taking SCIA into the future of 2016 and beyond. Having built up most of my experience in the manufacturing industry, I have seen first hand how the transformation to digital manufacturing has improved collaboration and productivity around the world and how it has changed the way products are being designed and created today. In the Architecture, Engineering and Construction (AEC) industry we see a similar shift as Building Information Modeling (BIM) is rapidly being adopted.
The ability to respond to this direction will become more and more important and we want to make sure we take the time and make the effort to listen to our customers and their needs in light of these changes. At SCIA we were true BIM pioneers since many years, notably by being among the founding members of the Open BIM movement and by linking our SCIA Engineer software to all major CAD systems. Today more than ever, we are dedicated to making sure we can help increase your productivity and develop the products that you need now and in the future.

We are looking forward to serving you in 2016 and wish you a healthy and successful year!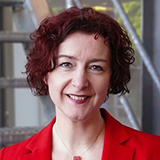 Hilde Sevens
CEO of SCIA